Introducing a new way to have a global experience.
---
What is it?
As the world adapts to new realities, we're making it easier than ever to, remotely, experience the furthest reaches of our interconnected world. These credit-bearing learning opportunities are made just for you! Maximize your access to the global community in a whole new way.
Taught by world-class faculty from the University of Oregon and Global Education Oregon (GEO) centers around the globe, these one-of-a-kind experiences remotely transport you to the location you wish to study, with the people and places you most wish to meet and see. A combination of asynchronous and synchronous instruction allows you to balance the demands of time zone changes with the vital experiential learning process—the key to global education. You'll participate in live weekly meals with a host family, live walking tours of the city and local venues, and also have the flexibility of some pre-recorded course work when appropriate.
---
How does it work?
Enrollment is easy. View your enrollment options to get started.
bg-green.png

Benefits
FLEXIBILITY
Travel the world in a single day! Choose a language experience from northern Spain and an art history experience from London. Talk about jet lag.
ACCESSIBILITY
For anyone, from anywhere. Never before has there been an opportunity to balance work, family, and education, all while remotely experiencing new cultures, people, and learning from around the world.
COST
"Travel" has never been so affordable! Exact costs for #NoPassportNeeded Experiences vary by participant. Please see the table below for details.
---
Featured Experiences
No passport, no expensive airfare, no barriers—the world is a click away! Which experiences will you choose?
GatewayTiles-spanhealthcare.jpg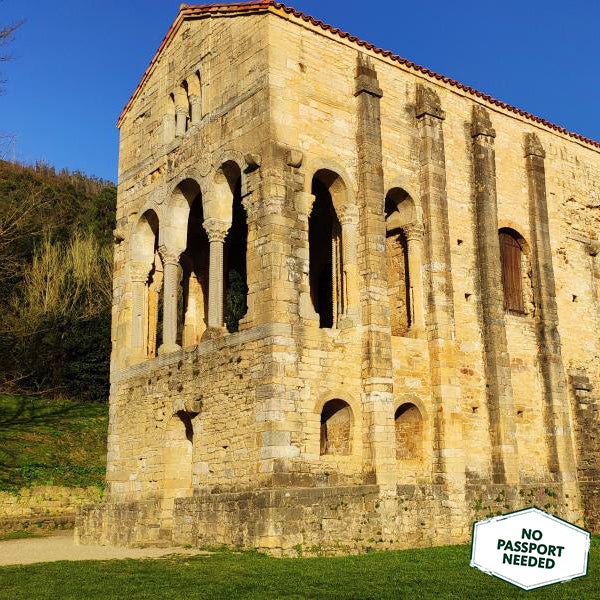 Earn 300-level Spanish credit for those interested in healthcare. Like Spanish Around the World, you'll explore various global dialects specific to the medical field. The perfect class for those serving diverse patient populations.
Get your Political Science credit! What better way to study international relations than by exploring Britain's dynamic relationship with the European Union.
Practice your Spanish-speaking skills with the Spaniards in the morning and remotely eat dinner with your host family in Latin America in the evening. This experience offers something real travel cannot provide. It is a MUST for any Spanish student.
---
Ghana Spotlight
London Spotlight
---
Pricing
---
Our Commitment
In a time of worldwide travel restrictions, we're bringing the world to you! As always, we remain committed to the health and safety of every student during their education abroad. This new format allows you the opportunity to connect directly with staff, faculty, and students around the world.
All GEO advising is on remote platforms (phone, video, chat, or email); GEO Advisors are available via:
Email your advisor directly to set up an appointment or get your questions answered.
Call our front desk at 541-346-3207 to arrange a remote session (via phone, Zoom, or Skype).
Email your questions to geoinfo@uoregon.edu.
---
Frequently Asked Questions (FAQs)
How do I apply?
For non-UO students, enrollment is easy. View your enrollment options to get started.
Do I need to be a University of Oregon student to participate in a #NoPassportNeeded Experience?
No! These Experiences are open to everyone, from anywhere. You can even share the experience with a friend or family member by enrolling in the same course!
Can I get credit for a #NoPassportNeeded Experience?
You have the option of taking most #NoPassportNeeded Experiences for 3 credits (semester) or 4-credits (quarter). Visit the individual Experience pages for more details, then talk with your home institution about course and credit approval. If you need a transcript see below.

Do I receive a transcript?
#NoPassportNeeded Experiences include a GEO grade report for students from GEO Partner institutions. For transcript options, see more information below.
If you are a student at a GEO partner university, make sure to check with your home campus study abroad office to verify that a GEO grade report can be articulated for home campus credit after you complete the Experience. If you are unsure if your home institution is a GEO partner university, please contact geoinfo@uoregon.edu.
If you need a transcript, the cost of participating in an Experience will be a different price. Since #NoPassportRequired Experiences are run through the University of Oregon summer school, anyone who needs a transcript must enroll in these experiences through the UO Community Education Program. Oregon residents will pay in-state tuition and non-Oregon residents will be charged out-of-state tuition.
What technology do I need?
Experiences may make use of a variety of equipment and technology, but some of the most common are:
What if I'm already enrolled in a future study abroad program? Can I still enroll?
Yes! You can enroll in an experience before your study abroad program takes place. Your study abroad application remains active. In other words, if you are departing for a study abroad program on or after August 15, 2020, you can still enroll in an experience before that date. Enrollment in an experience doesn't mean you cannot take a similar program in summer 2021.
What if I am a student at the University of Oregon?
You can enroll directly through DuckWeb. For more information, visit the UO participants webpage.
---
Stay Connected