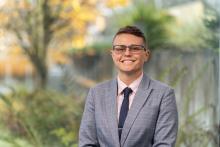 Global Education Program Coordinator (GEPC)
Advises for: Italy Programs; Gender & Sexuality in Ancient Greece
Drop-in office hours: Wednesdays 2:00-3:00 pm in Oregon Hall 300W (in-person only); Fridays 9:00-10:00 am via Zoom.
For appointments, schedule through Navigate.
Non-UO students, please email to schedule an appointment.
Kim is a native Oregonian from a small, rural town in Klamath County. As a business major at the University of Oregon, she studied abroad in Northern Italy and fell in love with the Italian culture. After a few years of exploring different careers and enjoying independent travel, Kim returned to Italy for two years to earn her MBA through a University of Iowa program, while coordinating their undergraduate study abroad activities. Kim likes to play videogames, geocache, and dogsit in her off time.