Upcoming Application Deadlines
| Winter quarter | Japan or Summer Exchange | Spring quarter | Fall, Spring & academic year Exchange | Summer term | Fall quarter |
| --- | --- | --- | --- | --- | --- |
| 11/15 | 1/1 | 11/15 or 2/15 | 2/1 | 3/15 | 4/15 |
*Some program application deadlines vary by program. Please verify deadlines on the web page for the programs you are interested in.
Applications to most programs are reviewed on a rolling basis in the order they are submitted, which means some programs may fill before the deadline has passed. We encourage all students to apply for their first-choice study abroad program as early as possible. We strongly recommend students consider one or two back-up programs in case space is not available in their first-choice program.
Featured Programs
Immerse yourself in the communications and media scene in London during this five-week summer program. Designed to take advantage of opportunities to experience some of the unique communication headquarters in London, excursions include visits to BBC Television and Radio, the ITN News Headquarters, and attendance at …
**Students are encouraged to apply early.  This program has received high interest for summer 2022 and may fill before the application deadline. In this summer program, you will be immersed in cinema studies in Ireland. You will get to work both critically and creatively, taking courses on contemporary Irish…
In this exchange program you will enroll directly in courses taught in English or in Finnish at Tampere University, Finland. This program offers a variety of formats for study (short courses, intensive courses, and reading examinations) in most fields of the social sciences, selected fields of the humanities, business…
How to Fund Study Abroad
Most forms of financial aid may be used to pay for your study abroad program costs. However, most students need to supplement their standard financial aid package. There are nearly 40 scholarships of varying requirements and award amounts that UO students can apply for. For specific information about awards and eligibility, you should consult with a financial aid counselor at the Office of Student Financial Aid & Scholarships.
There are 4 scholarships to help students fund their future study abroad experience. First generation college students, students with disabilities, and first-term freshmen are eligible to apply and use these scholarships at any point in their academic career at UO.
​​​
You will be considered for up to 6 need- and merit-based study abroad scholarships for GEO-sponsored programs by completing one general application.
Eligibility and award amounts vary for each scholarship
Region-specific scholarships are available
Students who apply for a GlobalWorks internship in East and Southeast Asia are automatically considered for this scholarship.
Up to $5,000
GlobalWorks offers individualized placements in a wide variety of career sectors
Student Perspectives 
Image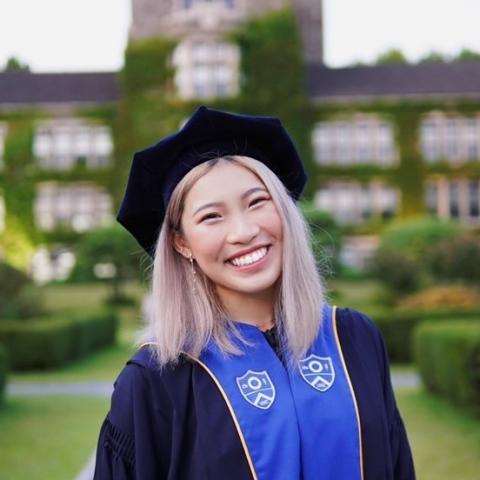 Anna Kien
"I originally applied to the Yonsei Exchange program for one semester but decided to extend for a second semester for various reasons! I fell in love with both the country and the people here in South Korea. From both professors and classmates, locals and strangers - I have met some of the nicest and most open-minded individuals and am grateful to call some of these people my closest friends and for the many unforgettable memories I have made with them. Not only did I learn lots about the language, culture, and history of South Korea but also that of many other students from around the world as well. In addition, the lifestyle as an exchange student in such a huge city like Seoul was something I did not want to let go of just yet. I love the independence I have here, being able to integrate myself in a culture so different from my own, and learning more about myself and the world around me, I am constantly learning something new and am able to push myself out of my comfort zone every day. I would never be able to have such an experience if I didn't get out of Eugene!"
Seoul, South Korea
Spring Semester 2021, Business Administration
Image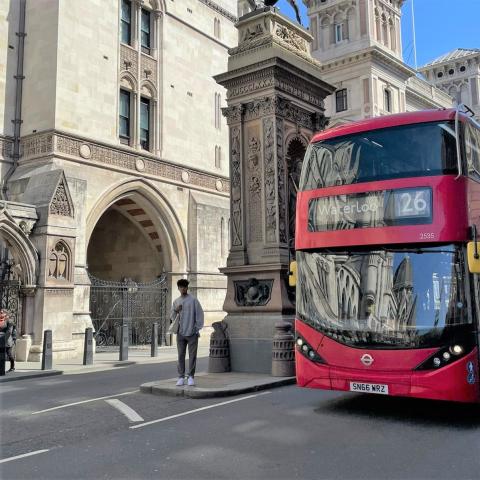 Pablo Macias
"Right off that bat, as soon as you start talking to people in London, as soon as they hear our accent they kind of pause for a second and confirm that you're an American and then it's a whole long conversation about cultural differences which is really fun. There isn't really a language barrier [in the UK] but there are tons of different cultures, and London is a very diverse city.
As for studying abroad during COVID, it's really worked out well. Right now there's like a million less people in the UK in general so the streets are not crowded, it's not a tense atmosphere at all, we're free to go where we want and experience the local scene. It's been a blast, it's a big city with a lot to do!"
London, England
Spring Quarter 2021, Psychology