Live and study in the capital of the United Kingdom, one of the most diverse and dynamic cities in the world. Experience this culturally vibrant metropolis that hosts more than 32,000 music performances and 17,000 theatrical performances each year. Visit world-class museums including the Tate Modern, the British Museum and the National Gallery. Explore UNESCO World Heritage sites like Greenwich, the Tower of London, Westminster Palace and Kew Gardens. Immerse yourself in the bustling city life or explore the many peaceful green spaces in and around your new home. As the United Kingdom's capital, London offers something for everyone, from the British Museum to the West End theaters, from the Tower of London to the House of Parliament and from ancient Roman ruins to the London Eye.
---
Travel-Based Programs in London
For Students
Start planning your experience abroad! The GEO London Center offers programs on topics such as:
Psychology
Shakespeare and English Literature
History
Business and Economics
Arts, Music, and Theatre
Journalism and Media
Politics
Public Planning and Policy
For Faculty
Looking for inspiration for your programming at GEO Centers? Consider some past programs that align well with these locations.
Accounting in London
Oxford Human Rights Consortium in London
Theatre and British Culture in London

 
---
Center Description
Accommodations
Students in semester and academic-year programs usually live in shared flats in Central London. Our summer programs, typically house students in apartments in Central London or in-residence halls serving nearby universities. The residence halls feature single rooms with en-suite bathrooms. See individaul program pages for specifics.
Potential Excursions
In London, visit the Tower of London, local theaters (e.g., the National Theatre, Shakespeare's Globe, The Royal Shakespeare Company, The Barbican, English National Opera, The Old Vic, West End performances), news organizations (e.g., BBC or Reuters), House of Commons or City Hall, Museums (e.g., Tate Modern, Royal Academy of Art, British Museum), and sports organizations (e.g., Wimbledon, Chelsea FC or Wembley Stadium).
One day-excursions: Stratford-upon-Avon, Bristol, Bath, Stonehenge, Brighton, Oxford, and Manchester.
Overnight excursions are available to sites throughout the United Kingdom, including Edinburgh in Scotland and Cardiff in Wales.
Learn more about GEO excursions in London.
Internships
Students participating in longer-term programs at the London Center (a quarter or longer) have the opportunity to take part in customized internship placements unique to their needs. A required internship seminar is offered in conjunction with this experience to help students acclimate to work culture in Britain and their specific internship placement.
Center Features
    •    Three (3) classrooms with space for 25 students each
    •    Student lounge for relaxing and study, and a library with classroom and travel resources
    •    Workspace for visiting faculty: Wi-fi, desk space and access to shared printer/copier
    •    Classroom equipment: whiteboards, LCD projectors, TV and DVD player, etc.
    •    Student computer access: Several desktop computers and a printer. Wi-fi also available
    •    Small kitchenette with microwave, sink, and kettle
London Staff
Curriculum Vitae for all staff and faculty are available upon request.
Image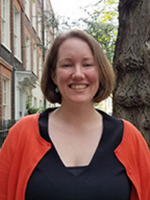 Image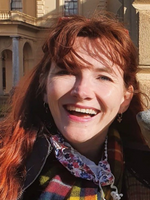 Image