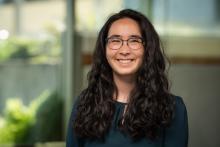 Finance and Operations Manager
Advises for: China, Hong Kong, Taiwan
Please email to schedule an appointment.
Jenn has a B.A. in Narrative Studies from the University of Southern California and an M.S. in College Student Services Administration from Oregon State University, where she specialized in international education. Her experiences as an international student in the US and as a study abroad student in the UK inspired her to work in international education. Prior to joining GEO, Jenn worked in the University of Auckland's International Office in New Zealand.
In her spare time, Jenn enjoys reading, baking, hiking, camping, and playing games.