Inside the City
Live and study in the capital of the United Kingdom, one of the most diverse and dynamic cities in the world. Experience this culturally vibrant metropolis that hosts more than 32,000 music performances and 17,000 theatrical performances each year. Visit world class museums including the Tate Modern, the British Museum and the National Gallery. Explore UNESCO World Heritage sites like Greenwich, the Tower of London, Westminster Palace and Kew Gardens. Immerse yourself in the bustling city life or explore the many peaceful green spaces in and around your new home. As the United Kingdom's capital, London offers something for everyone, from the British Museum to the West End theaters, from the Tower of London to the House of Parliament and from ancient Roman ruins to the London Eye.
Center Description
GEO's Centre in London, United Kingdom, is located in a townhouse built around 1720 on a quiet street in Bloomsbury, London's literary and university district. Only ten minutes' walk to the British Museum, the Centre is superbly positioned for access to public transport with tube stations and bus routes close by, as well as many of London's principal galleries, museums and theaters.
Accommodations
Students in semester and academic-year programs usually live with experienced host families. Our shorter programs, such as quarter-long and summer programs, typically house students in apartments in Central London or in residence halls serving nearby universities. The residence halls feature single rooms with en-suite bathrooms.
Potential Excursions
In London, visit the Tower of London, local theaters (e.g., the National Theatre, Shakespeare's Globe, The Royal Shakespeare Company, The Barbican, English National Opera, The Old Vic, West End performances), news organizations (e.g., BBC or Reuters), House of Commons or City Hall, Museums (e.g., Tate Modern, Royal Academy of Art, British Museum), and sports organizations (e.g., Wimbledon, Chelsea FC or Wembley Stadium).
One day-excursions: Stratford-upon-Avon, Portsmouth History Dockyard, Bath, Stonehenge, Brighton, Oxford.
Weekend excursions are available to sites throughout the United Kingdom, including Edinburgh in Scotland and Cardiff in Wales.
Learn more about GEO excursions in London.
Experiential Learning
Students participating in longer-term programs at the London Centre (a quarter or longer) have the opportunity to take part in customized internship placements unique to their needs. A required internship seminar is offered in conjunction with this experience in order to help students acclimate to work culture in Britain and their specific internship placement.
Sam_Bethel_London_Eye.jpg
Center Features
Three (3) classrooms with space for 25 students each
Student lounge for relaxing and study, and a library with classroom and travel resources
Workspace for visiting faculty: Wi-fi, desk space and access to shared printer/copier
Classroom equipment: white boards, LCD projectors, TV and DVD player, etc.
Student computer access: Several desktop computers and a printer. Wi-fi also available
Small kitchenette with microwave, sink and kettle
---
London Staff
Curriculum Vitae for all staff and faculty are available upon request.
Amanda_Milburn_thumb.jpg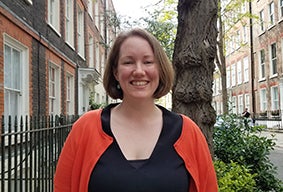 Dr. Amanda Milburn
Site Director
Amanda is responsible for all academic programs at the GEO Center. A native 'Brit,' Amanda is half-Scottish, grew up in England, and lived in Wales for almost a decade before moving to London. Her academic background is in nineteenth-century British history, with a focus on gender, class, and national identity. Amanda particularly enjoys helping students navigate British society and culture, and has been working with GEO since 2016.
Mary_Hiles_thumb.jpg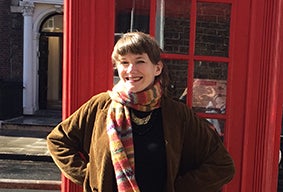 Mary Hiles
Assistant Director
Mary graduated from the University of Southampton and has a background in publishing. She has been working with GEO since 2011 and she manages much of the logistics at the London Centre, including organizing bookings and excursions, creating timetables, and acting as a communication hub for the students and faculty.
Kalyn_Franke_thumb.jpg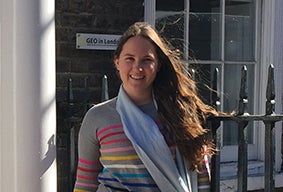 Kalyn Franke
Housing and Programme Coordinator
Kalyn was born and raised in Orlando, Florida, and studied abroad in London three times before moving there in 2012. She has an MA in Public Relations from the University of Westminster and worked in communications before joining GEO, where she manages the homestay program, accommodation arrangements and additional logistical details as needed.
---
Tim_Vergano_Austin_Museum.jpg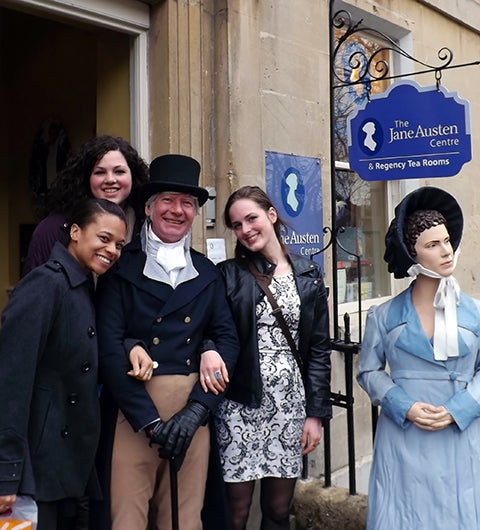 Programs in London
GEO operates recurring programs in London throughout the year with courses in:
Psychology
Shakespeare and English Literature
History
Politics and Economics
Arts, Music and Theatre
Journalism & Media
Business
Sports Marketing
Customized courses can be developed on request.