A commitment to our students, colleagues, and partners.
At Global Education Oregon, we believe that international engagement is integral to developing global citizens. At the same time, we recognize the impact that global, experiential learning has on the environment.
Informed by the UN Sustainable Development Goals, GEO commits to developing and adopting practices that are guided by the 3 E's of sustainable development. We aim to have a positive impact on the economy, environment, and equitable engagement abroad while educating students about sustainable actions available to them on their study abroad programs. Below are our current initiatives and goals for a more sustainable future.
 
The Three Pillars of GEO Sustainability
Learning Content
New curriculum development incorporates topics of sustainability.
New visibility for programs that meet the designation of "GEO Sustainable."

Designed to include one or more of the UN Sustainable Development Goals.
Keyed to a searchable filter under program type.

Launch of a new badge program awarding e-certificates to students who complete a program identified as "GEO Sustainable."
Global Program Structure
Sharing awareness of the external costs and impact of study abroad with students and faculty.
Training faculty leaders and GEO site staff in sustainable practices, in collaboration with the UO Sustainability Office.
Engaging with global partners committed to sustainability.
Informing students about carbon offsetting practices and alternatives.
Integrating carbon offsetting options into GEO Sustainable programs.
GEO Office Operations
Engaging frequently with the UO Office of Sustainability.
Participating in the UO Green Office Program and Certification Program.
Mitigating, where possible, the impact of professional travel.
---
New Programs & Initiatives
Image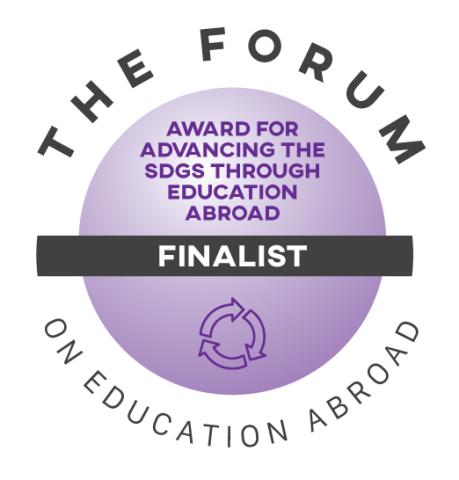 UN Sustainable Development Goals
The UN Sustainable Development Goals are among many strategies that have guided the implementation of GEO's institutional priorities to create a more sustainable future. For example, we have identified more than 20 study abroad programs – searchable on our program pages as GEO Sustainable – that intersect with at least nine of the UN Sustainable Development Goals.
Study Abroad Program Development for Sustainability
The new Food Justice and Sustainability in Siena program will explore questions around the social justice of food equity in relation to food production and the consumption chain along with enhancing critical thinking skills on the subject of ethics in the food system in consideration of human, animal, and environmental well-being.

Carbon Offset Pilot Program
GEO and the UO Office of Sustainability are piloting a project to make the study abroad experience more environmentally sustainable with an "Environmental Cost." The amount was calculated by the UO Office of Sustainability and is estimated by determining the amount of carbon emissions released into the atmosphere by air travel from Eugene to the study abroad destination and then deciding on a reasonable amount to mitigate some or all of those emissions. Air travel is one of the most significant contributors to greenhouse gas emissions, the primary contributor to global warming. Students have the option to pay for the environmental cost through financial donations or volunteer hours. Currently, GEO is piloting this project with a limited number of GEO study abroad programs with the hope of expanding it in the future.
Badge e-Certificate Program for Students
Students who participate in a study abroad program identified as "GEO Sustainable" will receive an e-certificate upon completion. Students will also have the option to earn an e-certificate on other programs. More information is coming soon!
Student Guide on Sustainability
It is important for students to leave a positive impact on their host country by respecting the local culture, history, language, and environment. Making a conscious effort to reduce their environmental footprint is no different from learning how to adapt to local customs, accents, or dress. This resource reminds students of the many areas to be conscientious of while abroad, such as water and energy waste, food and diet, transportation, and personal belongings.
Faculty Leader Sustainability Workshop and Toolkit
More information is coming soon!
International Volunteer Day
More information is coming soon!
For more information, contact geoinfo@uoregon.edu.