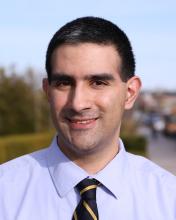 Assistant Director for Student Success and Analytics
Originally from Cananea, Sonora (Mexico), Luis has worked in the Division for Global Engagement since 2010. He earned a B.A. in History from UC Berkeley, with minors in Latin American and Spanish Literature and Russian Literature. At the UO, he was a graduate student in the History Department, with a teaching focus on modern Mexico and Latin America, and a research focus on the history of intellectuals and public education in 1930s Mexico. Luis has taught courses on Mexican history at the UO and on a study abroad program at the Universidad de las Americas in Puebla. He also co-taught a course on the history and politics of soccer in Latin America offered on a study abroad program in Rosario, Argentina during the 2014 World Cup.
At GEO, Luis advises students pursuing scholarships for study abroad, including the Gilman Scholarship, Boren Scholarship, FEA, and GEO Scholarships. He also works with students interested in post-graduation fellowships like the Fulbright US Student Program, and he advises students interested in exchange programs in Mexico (UNAM and ITESM). 
To schedule an appointment with Luis, book through Navigate: https://uo.campus.eab.com/pal/LcP_A-R8fu 
Luis also offers drop-in advising (in-person or remote) on Mondays 2:30-3:30pm and Thursdays 2-4pm  
Zoom link: https://uoregon.zoom.us/j/94572517903