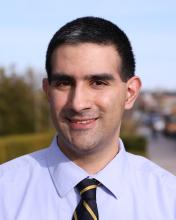 Assistant Director for Student Success and Analytics
Advises for: Exchange programs in Mexico, GEO Scholarships, Boren Scholarship, Fulbright Scholarship and Gilman Scholarship
Drop-in office hours: Mondays 2:30-3:30 p.m. and Thursdays 2-4 p.m. on Zoom or in-person 300W Oregon Hall.
For appointments outside of office hours, schedule through Navigate.
Non-UO students, please email to schedule an appointment.
Originally from Cananea, Sonora (Mexico), Luis has worked in the Division for Global Engagement since 2010. He earned a B.A. in History from UC Berkeley, with minors in Latin American and Spanish Literature and Russian Literature. At the UO, he was a graduate student in the History Department, with a teaching focus on modern Mexico and Latin America, and a research focus on the history of intellectuals and public education in 1930s Mexico. Luis has taught courses on Mexican history at the UO and on a study abroad program at the Universidad de las Americas in Puebla. He also co-taught a course on the history and politics of soccer in Latin America offered on a study abroad program in Rosario, Argentina during the 2014 World Cup.
He also works with students interested in post-graduation fellowships like the Fulbright US Student Program.