Live and study in this bustling, vibrant university town in Tuscany. Immerse yourself in student life in Siena, located just 35 miles from Florence and home to more than 20,000 students each year. Relax in a café on the Piazza del Campo, a medieval square and public gathering space. Enjoy the flavorful, fresh Tuscan cuisine. Explore the 13th century Duomo di Siena and look out over the city from the Gothic Basillica San Domenico. Stroll through the narrow cobblestone streets and explore the 17 contrade, or districts. Immerse yourself in the city's nightlife or shop along the three main pedestrian streets downtown. Experience the relaxed pace of Italian life. Siena is an ideal place to develop your intercultural competency skills while you experience medieval and modern Italian culture, food, art, architecture, and politics.
---
Study Abroad Programs in Siena
For Students
Start planning your experience abroad! The GEO Siena Center offers programs on topics such as:
    Intensive or semi-intensive Italian language at all levels
    Studio Arts & Architecture
    European Politics
    Economics
    Journalism and Media
    Italian Language and Culture
    Marketing
    Business
    Intercultural communication
    History
    Food and Wine studies
For Faculty
Looking for inspiration for your programming at GEO Centers? Consider some past programs that align well with these locations.
Early Childhood Education in Siena
The Art of Living Well  in Siena
Book Art in Siena
Studio Art in Siena
Architecture in Siena
---
Accommodations
Students usually stay in apartments, but residence halls may also be arranged to be shared with other American, Italian, or international students. Host family accommodation is not normally offered, but students who request such an arrangement can be accommodated. All apartments are centrally located, well furnished, and have Wi-Fi. An agreement with the Università di Siena cafeteria allows our students to have meals at the two student lunchrooms in town at a substantial discount during the academic year.
Image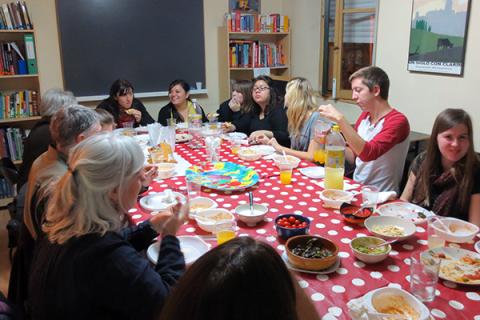 Potential Excursions
In Siena, the Gothic Duomo and its museum with works of the Italian masters; the 13th century Church of San Domenico to see relics from St. Catherine; the wide Piazza del Campo, where the famous Palio di Siena horse races have taken place for almost 400 years.
One-day excursions: The churches and museums of Florence; Tuscan vineyards, wineries and producers of local meats, cheeses and produce; ancient, hilltop walled villages, like San Gimignano; the community of Assisi, home to the magnificent Basilica of St. Francis; Castello di Brolio, where Chianti wine was first produced.
Weekend excursions: Rome, Milan, the Lake District, and Venice, including the Venice Biennale, a bi-annual international art expo.
Learn more about GEO excursions in Siena.
Experiential Learning
Placements vary by term. In the past, students have volunteered at local retirement homes, ceramic arts programs for community members with disabilities, pre-school and elementary schools, and rescue and social services.
Center Features
Five classrooms (one classroom for 40, two for 20, one for 15 and one for ten students)
Student library with resources and study space; easy access to the city library
Workspace for visiting faculty: shared access to computer and printer; Wi-fi available
Classroom equipment: whiteboards, three LCD computer video projectors, one television, and multi-system DVD players for classroom use
Student computer access: one computer and two printers; Wi-fi available
Siena Staff
Curriculum Vitae for all staff and faculty are available upon request.
Image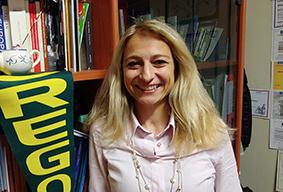 Silvia Minucci    
Site Director
Silvia is GEO's Siena Center site director. Born and raised in Siena, she earned her BA in foreign languages and literature from the University of Siena and also obtained her Advanced Specialization (Dottore) in literary translation (Russian) from the University of Siena. She teaches the program's cross-cultural perspectives class, provides tutoring help in Italian language, and meets regularly with students on their progress. Having studied abroad in France, Great Britain, Ireland, and Russia, Silvia understands students' adjustment difficulties as they adapt to living in Siena.
Image
Claudia Todaro
Program Coordinator
A lifelong resident of Siena, Claudia studied abroad in Spain and in the U.S. where she studied English at the American English Institute at the University of Oregon during the summer of 1993. She coordinates all parts of the students' stay in Siena, from lodging to excursions, and handles the accounting for the program. Claudia keeps the office going on a day-to-day basis.
---