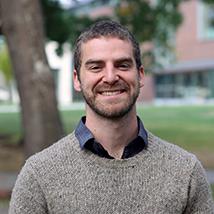 Senior Global Education Program Coordinator
Advises for: Africa, Greece, Latin America, Oceania and Wildlands Studies
Drop-in office hours: Mondays 2-3 p.m. on Zoom and Wednesdays 2-3 p.m. in 300W Oregon Hall.
For appointments outside of office hours, schedule through Navigate.
Non-UO students, please email to schedule an appointment.
Patrick has more than a decade of experience in international and experiential education. He previously served in the Peace Corps in Ukraine; led gap year programs in Africa, Asia, and South America; and directed programs in Costa Rica. Patrick has a Bachelor's Degree from the University of Oregon and a Master's from the Middlebury Institute for International Studies at Monterrey. He spends most of his free time rock climbing, dog training, volunteering with Eugene Mountain Rescue, and working as a part-time instructor of wilderness medicine courses.