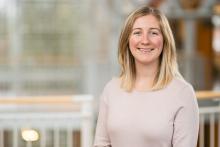 Global Engagement Program Coordinator (GEPC)
Advises for: CIEE and CET programs, Mexican Studies and Spanish Immersion in Querétaro, Interviewing and Story Development in Mexico, Marine Biology in Panama and GEO programs in Oviedo and Segovia, Spain. 
Drop-in office hours will resume on January 15:  Mondays 2:00-3:30 p.m. and Wednesdays 3-4 p.m. in the Division of Global Engagement- 300W Oregon Hall.
For appointments outside of office hours, schedule through Navigate.
Non-UO students, please email to schedule an appointment.
Sarah has over six years of experience supporting students academically, personally and professionally. Prior to serving as a Global Engagement Program Coordinator, she served as an Admissions Counselor at the University of Oregon and a Fulbright English Teaching Assistant in Londrina, Brazil. Sarah has been welcoming exchange and international students to her community since her sophomore year of high school and had the opportunity to be an exchange student in Chile while studying at DePauw University. She is grateful for the life-long relationships international education has brought into her life and wants to help others develop similar relationships.